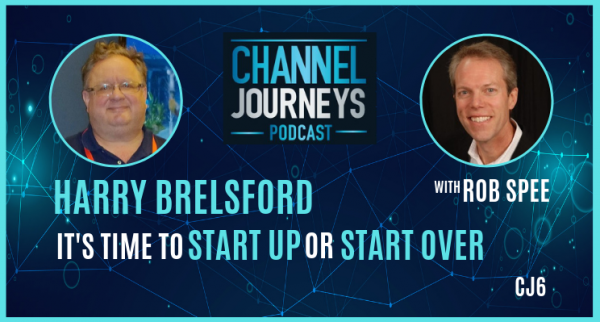 Talking Partner Transformation With The Founder Of SMB Nation
CJ6. This episode features Harry Brelsford, founder of SMB Nation, ski racer, and cycling enthusiast. Harry is a long-time advocate, consultant, and spokesperson for partners and is passionate about helping them succeed. Harry is on a new mission to help MSPs through partner transformation. Find out why his message is Start Up or Start Over in this fun episode spanning Harry's own channel journey.
SHOW NOTES
[3:30] Harry's favorite place is Stellenbosch, South Africa, known for its wine country and amazing cycling. (after seeing pictures, I can't wait to go there!)
[4:15] His favorite pastimes are cycling and cross-country skiing. He was a Nordic ski racer growing up in Alaska.
[9:00] Harry was an adjunct professor for 12 years before launching his small business server business. Writing articles led to books which led to workshops. His audience was the "computer guy" who's now often called an MSP.
[11:30] Harry's interest was in saving the world with small business servers and got involved in shipping servers to the Peace Corp to help small businesses compete.  He's since been to 45 countries during his career.
[15:30] With today's technology, growing sentiment in Seattle is "why have office space, why have employees, why commute?"
[17:00] Russell Johnson, the actor best known The Professor from Gilligan's Island, lived and died on Bainbridge Island, across the Puget Sound from Seattle.
[17:45] Harry's new mission with SMB Nation is to transform partners into new areas like analytics and dev ops and get them to create intellectual property to increase their value.
[19:45] Start Up or Start Over – it's the tagline of SMB Nation and their mission which is half geek and half business. If you are 50 and at a Fortune 500 in Seattle, you're fired. Only option is to start up a company. Start over refers to the core MSP audience of SMB Nation who need to reinvent themselves and transform their businesses.
[24:45] Harry's transformation of SMB Nation includes moving away from live events to digital content and online events like Tech Talks to help the MSPs who are members. Vendors are invited to sponsor the Tech Talks.
[31:00] Seeing population of MSPs shrinking and transforming. Contraction coming in many forms, from mergers and acquisitions to exits.
[35:00] Pivoting SMB Nation content to 8 minute YouTube videos including his On-The-Road series.
LINKS & RESOURCES