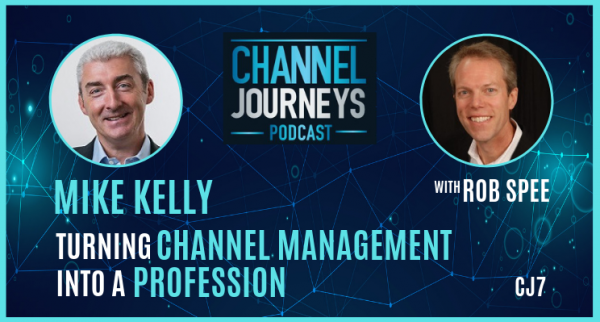 What Does It Take To Create A Channel Profession?
CJ7. This episode features Mike Kelly, founder of the Channel Institute. Inspired by entrepreneurs like Richard Branson and Elon Musk, Mike loves Big Hairy Audacious Goals like scaling mountains and running marathons. But these adventures look easy compared to Mike's most audacious goal yet. He is on a mission to turn channels, and roles like channel management and channel marketing, into a profession.
Websters defines a profession as a calling requiring specialized knowledge and often long and intensive academic preparation. For many of us, channel is our calling.  The goal of the Channel Institute, and the Channel Journeys podcast, is to share specialized knowledge, elevate the channel, and turn this calling into a profession.
SHOW NOTES
[3:30] Mike grew up in Dublin, his favorite drink is black with a creamy white head! Favorite food is game pie.
[4:30] Of his many adventures, one of his most memorable is a joy ride flying with just the pilot over Victoria Falls in Zimbabwe, Africa. They're in a small plane with wooden a propeller, that turned out to be rotten. As their flying over the jungle, the propeller blew off and they crash landed into the jungle!
[6:30] Mike is more than active. His outdoor sports include sea kayaking, mountaineering, running marathons, surfing, and skiing.
[7:45] Since he was 13, Mike wanted to be an entrepreneur. Studied marketing to learn how to create value and demand. Won a green card lottery to work in a marketing agency in Boston.  Met his business partner and launched a marketing agency, TSL.  After reaching over 300 employees, sold TSL to launch Ridge Consulting to help tech companies grow their channel and channel partners.
[10:30] Earned a Charter Director certificate, a gold standard for business strategy in the UK. He took the strenuous 2-year program to help him run his own business, be a better business consultant, and eventually join the board of directors for a charity.
[12:45] Launched the Channel Institute to fill the skills gap found among channel managers at the lower end. No one is teaching the fundamentals. His mission is to make channel management a channel profession.  Formed an industry council with tech leaders to validate the courses to ensure content is hitting the mark.
[16:30] Channel  Institute only one year old, but already gaining momentum, forming partnerships with Universities and vendor training academies. Focused on the fundamentals and look for ways to dovetail into other courses.
[18:00] His target audience includes:
[20:00] Even vendors with "gold-star" channel marketing teams are coming to the Channel Institute to gain digital co-marketing skills.
[22:00] Provides the channel management and channel sales certificates to meet the needs of channel managers who are more business consultant and the ones who are more sales focused.
[22:45] Sees a lot of people taking the course who pay out of their own pocket because they've been dropped into the role without any training.
[24:15] Biggest challenge in launching Channel Institute – being a small company trying to teach the religion of a channel profession.
[27:00] Sending a channel manager on a solution selling course designed for field sales people without first providing training on channel fundamentals is kind of pointless. Make sure they have the fundamentals first so they can combine the two skills.
[28:30] Mike's inspiration comes from entrepreneurs with Big Hairy Audacious Goals like Richard Branson and Elon Musk. The have confidence, audacity, and vision.
[31:00] Channel Institute is a stepping stone for we as an industry to up our game and make channels a profession. Let's treat our profession with more respect and give new people entering channels a lot more support.
[32:00] Channel technology is great. But don't forget the soft skills.
LINKS & RESOURCES