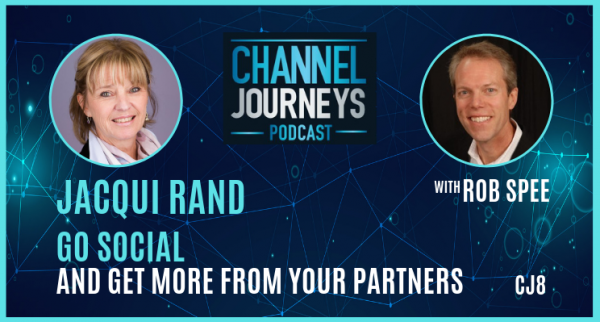 How To Increase Partner Engagement With Social Channel Marketing
CJ8. This episode of Channel Journeys features Jacqui Rand, co-founder of Channeliser, a platform for finding and getting social with partners. Learn about Jacqui's channel journey and how she met Peter Norton and Bill Gates. Find out how she's helping vendors find the right partners and drive higher partner engagement through social channel marketing. And not just the largest and most strategic partners, but the long-tail partners as well. This episode is loaded with insights on leveraging social media effectively and efficiently in the channel.
KEY TAKEAWAYS
Social channel marketing provides vendors a more effective way to communicate with partners than with just email and newsletters.
Automating social engagement allows vendors to build relationships with all partners, from strategic to long tail partners, without increasing your workload.
Social engagement should come from more than just vendor's channel manager and channel marketing team. Sales, technical, services, and other stakeholders can all participate.
Social platforms can help all partners feel valued and provide means for partners to connect with other partners.
SHOW NOTES
[2:00] Favorite food is Bangers and Mash. Favorite sport is horse racing.
[3:45] After traveling the world, Jacqui's favorite spot is Scotland and loves cycling there with Skedaddle.
[6:30] Worked for Ashton Tate, then Peter Norton of Norton Securities during acquisition by Symantec, and then got immersed in partnering at Microsoft.
[7:30] Formed a channel consulting business in 2011 with her business partner Ann Lampton helping vendors find new partners. This led to the development of Channeliser – a match.com for the channel.
[10:30] Met Ben Rosen, founder of Compaq, and met Bill Gates in Cannes.
[12:00] Millennials entering the channel grew up with social, and used to using social platforms, not email, to communicate.
[13:30] Need to be driving relationships in the channel, including the long-tail partners. Having technology than enables you to interact without increasing your workload is crucial.
[15:30] Channeliser provides a partner portal with all social features built-in. It becomes your private social channel marketing platform that can be integrated with your existing partner portal. And it helps you communicate more effectively with your largest and most strategic partners as well as your long-tail partners.
[17:30] Has an Industry Network of partners open to IT companies around the world to find partners by location and skill sets. Allows you to connect at company and individual level.
[20:40] The inspiration for Channeliser was initially the difficulty in finding and connecting with the right partners around the globe. Then market demand from vendors to have a private social channel marketing platform for communicating with partners led to the expansion of Channeliser.
[23:00] Now have about 3000 partners from around the globe in the Channeliser community. Still curating and growing to make sure it's valuable.
[24:30] Challenges include looking for funding while running the company and finding the right developers – they found great team in Ukraine.
[27:30] Channeliser helps to drive more social behavior and best practices within the channel team.
[29:00] Looking for partners including channel technology vendors and consultants to help expand business outside of Europe.
[31:00] Great opportunities for women in the technology channel, both in channel management and channel marketing.
LINKS & RESOURCES