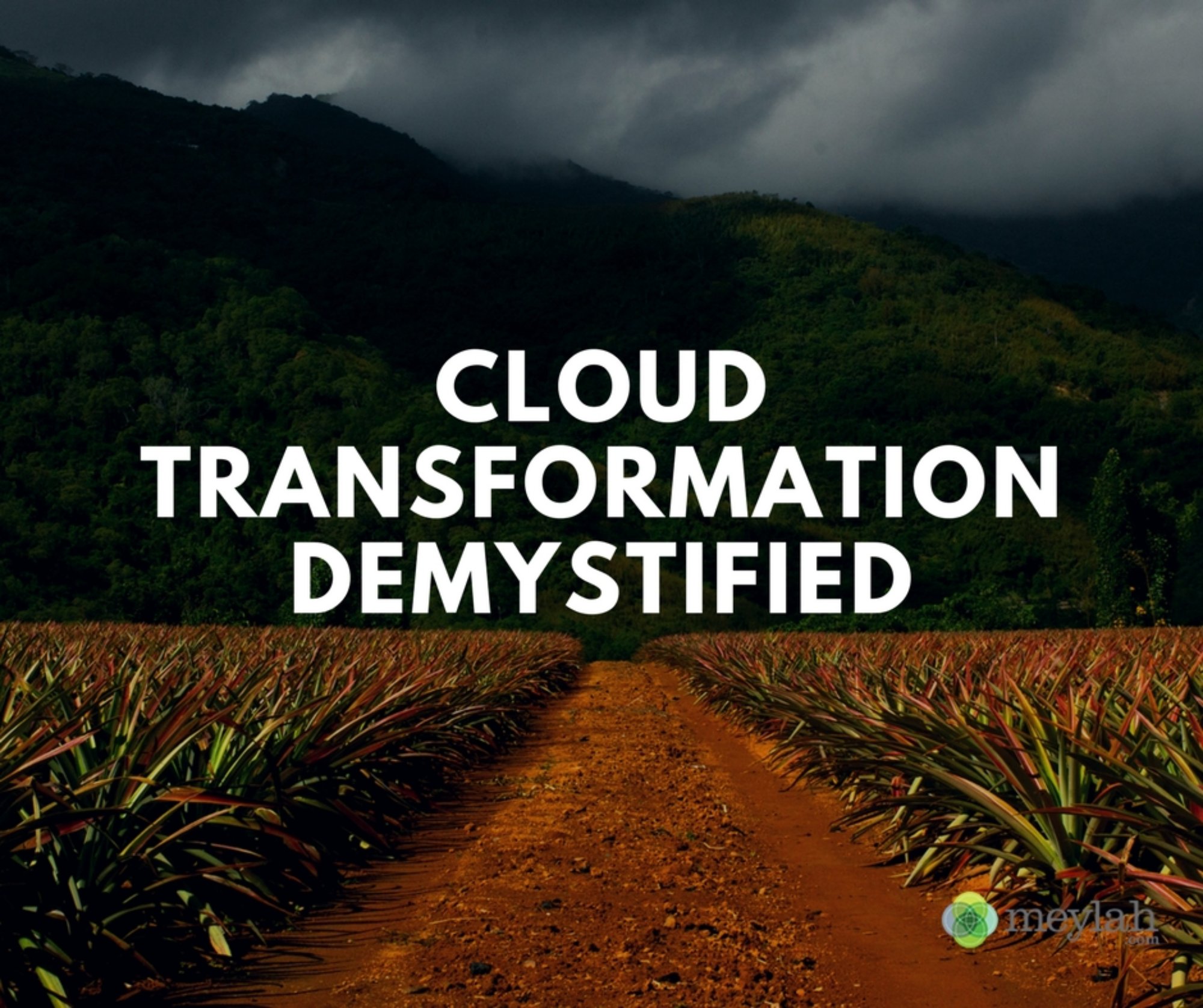 Cloud Transformation has gained greater traction in the recent years. However, to propel your business to achieve the cloud profitability that you deserve, there are three core concepts that need to be understood.
Opportunity, Knowledge, and Actions
It works like this:
Your business realizes that there's an opportunity to solve a problem or add value to the lives of many customers and make a recurring revenue from it.
You and your team acquire the knowledge that you need to take advantage of the cloud opportunity.
You and your team will execute actions based on the knowledge obtained, and your profit will be directly proportionate to how many customers you empower with Cloud technologies.
Let's Talk about the Opportunity First
The worldwide use of public cloud services will grow at a 19.4% annual rate over the next five years, from nearly $70 billion in 2015 to more than $141 billion in 2019. That's six times the growth rate of enterprise IT spending as a whole and will cause cloud spending to double during that time period, according to market researcher IDC. The $141 billion figure was cited in IDC's release of its "Worldwide Semiannual Public Cloud Services Spending Guide," published Jan. 21 and shared by Information Week.
Although the bulk of the cloud spending comes from large organizations, small companies (defined as having 500 or fewer employees) represent a growing share that will constitute 40% of the spending through the forecast period, the report added. Simply said, the cloud opportunity is Booming, and it continues to grow at an insane rate. Now, thanks to the Cloud Vendors and their incredible technological advances over the last few years, we are able to help our customers transition to Hybrid Cloud or Public Cloud easily. In fact, you could build your cloud practice in 100 days or more, while creating recurring revenue with very little upfront investment.
Knowledge to Take Advantage of the Opportunity
Founder and CEO Jasson Walker Jr. started his company, cFocus Software, in 2006. Based in Largo, Maryland near Washington D.C., cFocus Software has carved out a successful niche by providing IT services for government agencies—primarily defense agencies with a slight mix of civilian agencies as well. cFocus Software has always been focused almost exclusively on Microsoft services. Apart from that, much of their work is on SharePoint deployments, .NET development, and support for Windows Server as well as SQL Server.
Until now, cFocus Software primarily worked with on-premises deployments. Given the data security concerns inherent to working with government agencies, particularly those concerned with national defense, cFocus Software's customers have only recently become interested in cloud services. As demand among his customers increased, however, Walker knew that he needed to pivot his organization's competencies to meet their demand. "Around 3 years ago, we noticed our customers asking more and more about cloud services. At the time, these services were already popular in the commercial space, but until that time they had been less prominent among customers working in the federal government." – Jasson Walker Jr., Founder, and CEO, cFocus Software
Committed to evolving with his clients, Walker knew he had to make a change. Last summer, Walker decided to pivot the company into a cloud-based business. After making the decision, Walker looked to Microsoft for help. As a Microsoft partner, cFocus Software received some emails and invitations to various workshops and events throughout the year. Searching through his inbox, Walker came upon an opportunity that fit his need: the Microsoft Cloud-Ready program. The workshop in Irvine, California, offered Jasson the chance to jump-start his cloud transformation. He left with a comprehensive plan in hand to transform to an Azure-focused, cloud-first organization in 100 days. Beyond providing Jasson a plan that he could follow to transform cFocus Software, the workshop also offered Jasson insight into Microsoft's priorities–and ultimately convinced him that, of all the cloud technologies he could build a business around, Azure was the choice for cFocus Software.
While Jasson prepped for his certifications, he also devoted some time to prepare cFocus Software for its cloud transformation. He also worked through the business plan that he had outlined during the Cloud Ready workshop. He completely reconstructed his website (https://cfocussoftware.com/) and developed go-to-market strategies for the new services, technologies, and solutions that his new Azure focus afforded his business.
The Best News
The cloud transformation journey and 100 action plan is now available from Microsoft and is completely free. The cloud transformation journey map consists of 7 core steps. By following the journey map and putting together an action plan you can achieve cloud transformation in 100 days or less.
Companies who have gone through this proven model have significantly increased their revenues, added new headcount, and attracted new customers.
You want to grow your business? We know how.
Partnering with Microsoft pays off. The Cloud Solution Provider program helps you go beyond reselling licenses to being more involved in your customer's business.
The opportunity is here and the knowledge is yours for the taking. The question is, do you have the drive to execute your 100-day cloud action plan? Will you take matters into your own hands and build a profitable cloud business?
If yes, then here are 3 steps you can take today:
Take a free cloud-ready assessment for your business.
Download free copy of the e-book: How to build a Million Dollar Cloud Business With Microsoft Cloud
Connect with us to schedule your digital transformation workshop to develop your personalized action plan.
Credit: Also shared on LinkedIn